architecture commercial premier plaza II
Lincoln City, Oregon - 2005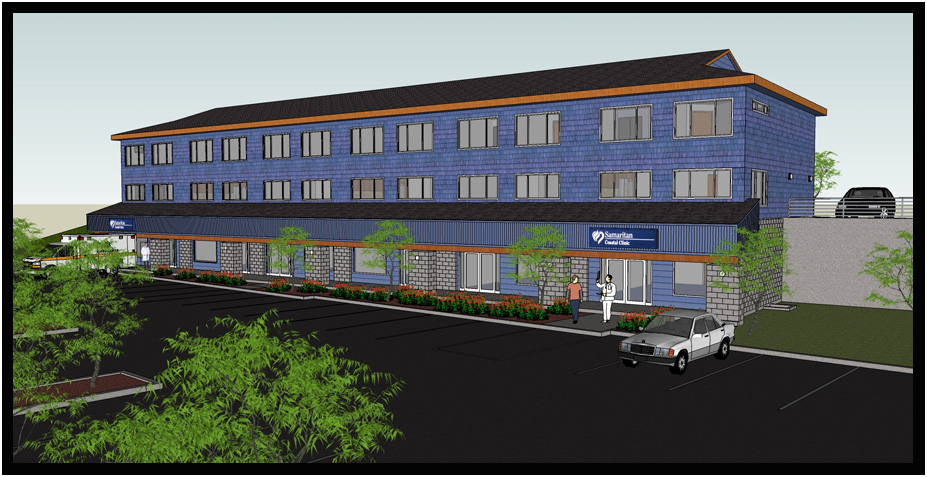 THE PROJECT
As Phase II of the Premier Plaza Complex, to design and generate working drawings for a ~5000 sq.ft. commercial retail space at the highway 101 level of the property,
and ~1000 sq. ft. on levels two and three above to house six two-level apartment/condos with access off Inlet Avenue.
When Phase I was taken over by the Lincoln City Samaritan Clinic, designs were adjusted to address additional clinic space on the ground level with condos above that
could be occupied by medical staff seeking local housing.
The major challenge was to coordinate with city, county and state officials to meet strict development codes relating to mixed use development, access and parking
with the ultimate goal of having the property rezoned for Mixed Use.
Construction documents were put on hold at ~50% when Mixed Use re-zoning did not appear to be materializing within a workable time frame.

THE SITE
A large, split level city site located between highway 101 and Inlet Avenue, a residential street above and to the west.
The site already contained the 10000 sq.ft. Premier Plaza I commercial retail space fronting hiway 101.

THE CLIENT
Jim & Carol Ruggeri
Newport, Oregon

THE BUILDER
Owner acting as General Contractor

unless noted otherwise all images copyright d. holmes chamberlin jr architect llc
---


The Premier Plaza Complex
Early plans called for four phases of work on and around the old Premier meat market site.

Premier Plaza I (yellow) Designed retail space on hiway 101 occupied by the Lincoln City Samaritan Clinic.
Premier Plaza II (blue) Designed to house retail space on the hiway 101 level and two-level residential condo/apartment units above on Inlet Avenue.
Premier Plaza III (green) Designated for a residential unit off Inlet Avenue. Plans for this phase were never developed.
Premeir Plaza IV (red) Designed for more up-scale commercial retail units facing hiway 101.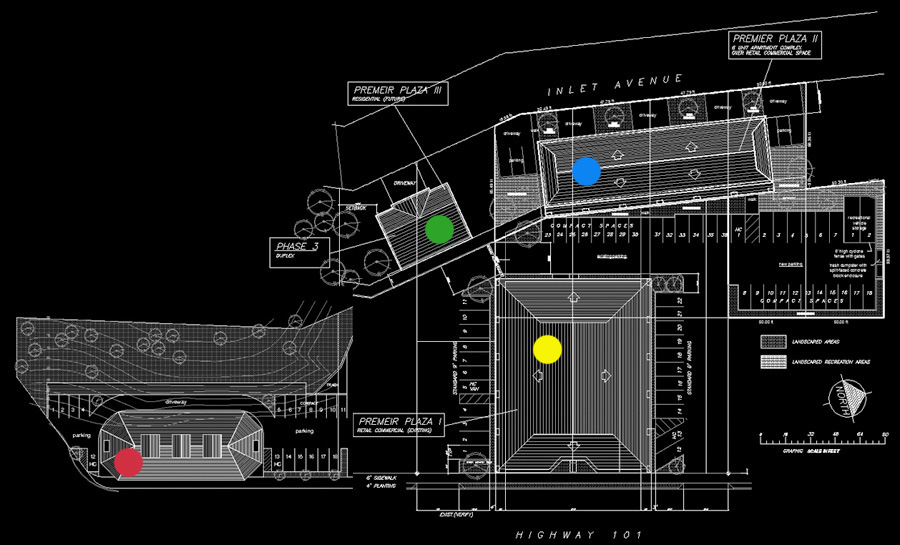 ---


Premier Plaza II Concept
Each business has sheltered exterior access from adjacent parking and access to other commercial
businesses located in the Phase I portion of the project.
Levels two and three contain six apartment/condo units and are accessed from the upper residential street for quiet and ease of access.
When Phase I became the Medical Clinic, Phase II was conceived as additional clinic space on the ground floor and potential living space for the doctors and their staffs.


---


Highway 101 Ground Level Commercial Plan
Cut into the hillside, the commercial retail space is designed to have the potential for six units with twenty foot bays.
All tenant spaces have a covered wallway in front similar to Phase I.



---



Inlet Avenue Residential Level Plans
The six apartment/condos can be built either two or three bedroom units...
The entry level (left) features a Garage, Entry, Livingroom, Kitchen, Dining area, and a Powder room.
The upper level (right) features two or three bedrooms and a bath. Two bedroom apartments feature an upper level bridge
which looks down into the two story livingroom space under the vaulted ceiling.



---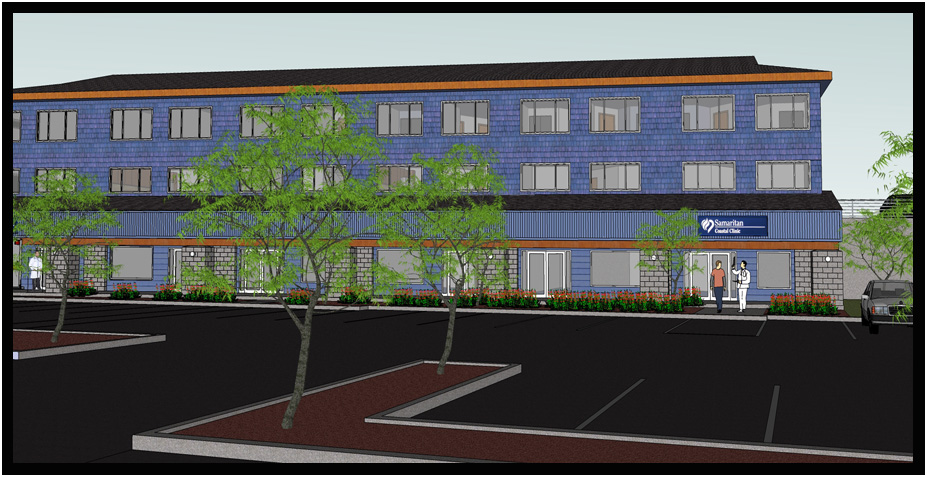 East, commercial elevation, Premier Plaza II, Lincoln City, California, USA, 2005.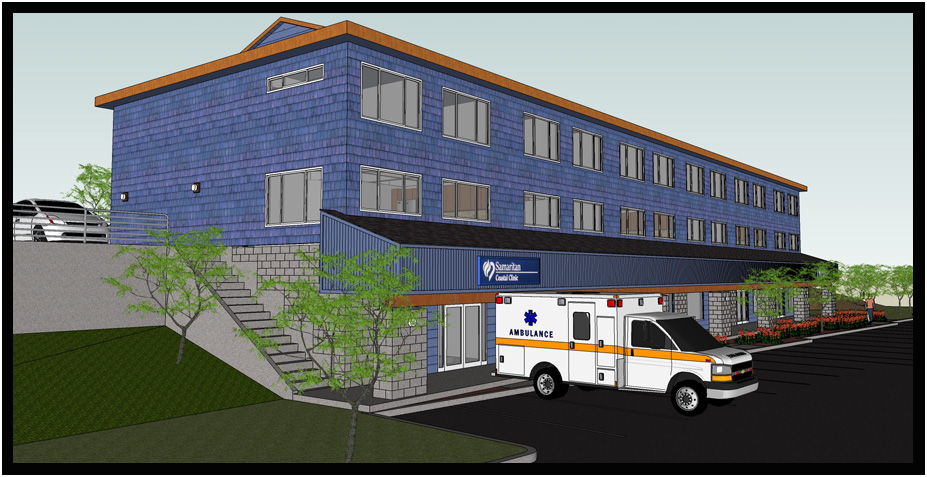 Southeast elevation, commercial level, Premier Plaza II, Lincoln City, California, USA, 2005.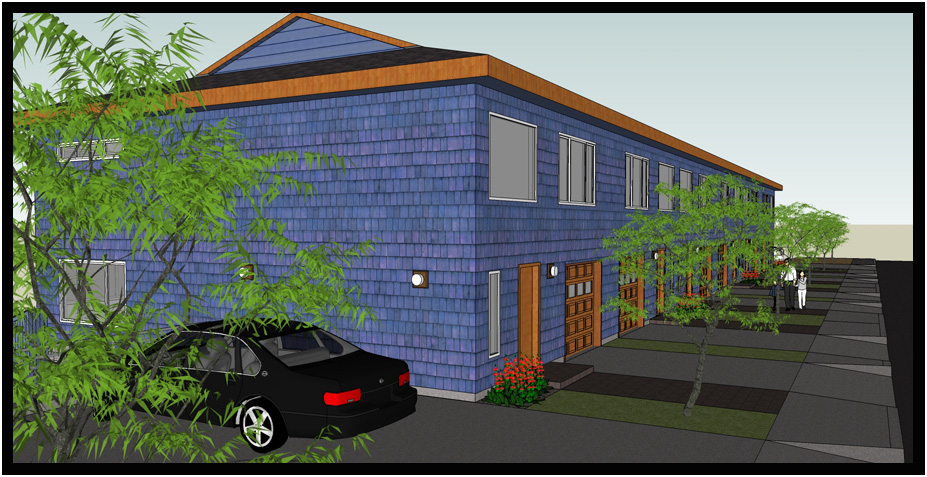 Northwest elevation, residential level, Premier Plaza II, Lincoln City, California, USA, 2005.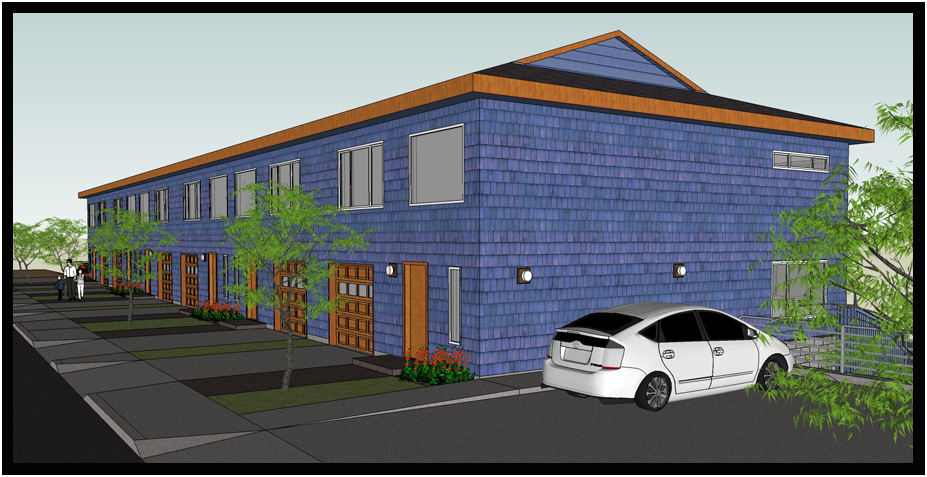 Southwest elevation, residential level, Premier Plaza II, Lincoln City, California, USA, 2005.





copyright d. holmes chamberlin jr architect llc
---
page last revised june 2019