personal interests sports volleyball coaching

"During my lifetime, I have had the opportunity to function as both a coach and player-coach for a variety of volleyball teams.
In the early 60s, when I first began to play volleyball, the sport had not yet taken on the status it enjoys today as a recogized major sport.
Almost everywhere I went, I had to work with other enthusiasts to set up volleyball programs and often help with coaching while I played.

This first happened at Glendale College where I helped start a coed team to compete inter-collegiately around the southern California area.
It happened again at Cal Poly University where they had no sanctioned men's volleyball team and a women's team that was coached by a non-volleyball player.
Drawing from enthusiastic players on intramural teams, we built up a very competitive men's Club team that competed against other sanctioned college teams.
I was also able to function as an unofficial assistant coach with the women's team on which my then-girlfriend, Leslie, played.
During this time, I tested for, and successfully became, the first nationally rated male official for women's collegiate volleyball.

After moving to Yachats, Oregon, where there were no orgnized volleyball clubs, I focused my interest at coaching on the High School level.
I first worked as an assistant coach at Waldport High School helping with the Varsity and in charge of training and coaching the Junior Varsity team.
I was Junior Varsity coach from 1985 thru 1987, and then Varsity coach from 1989 thru 1993."


unless noted otherwise all images copyright d. holmes chamberlin jr architect llc
---


PLAYER-COACH - GLENDALE COLLEGE - 1962-1965

Fellow volleyball enthusiasts and I were able to convince one of the women PE teachers to start a co-ed volleyball team.
Although a good teacher, she was unfamiliar with competitive power volleyball and a couple of us functioned as player-coaches to assist.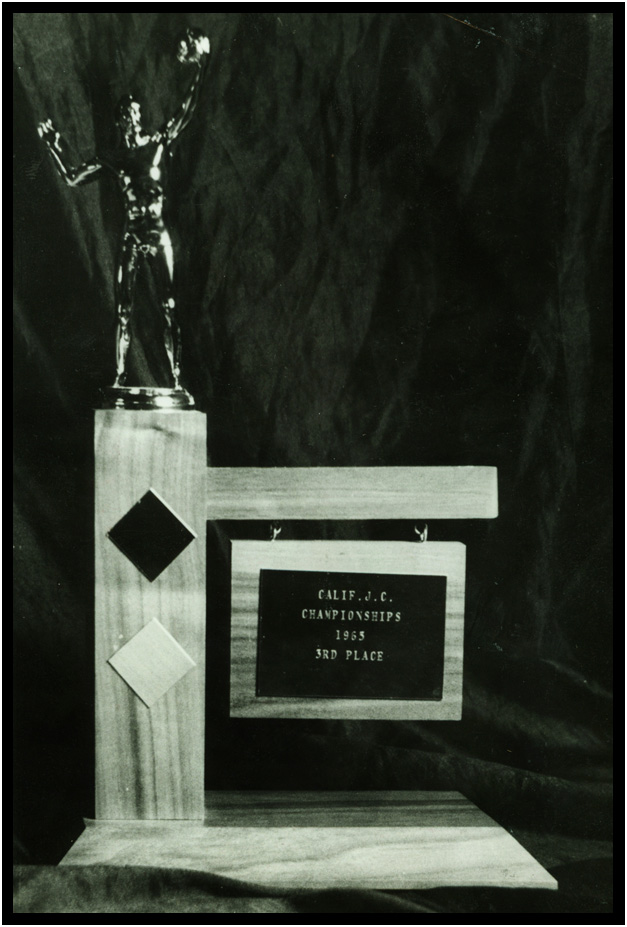 Third Place Trophy, California Junior College Championships, 1965.



---

UNOFFICIAL ASSISTANT COACH - CAL POLY WOMEN'S VOLLEYBALL - 1971

My girlfriend, Leslie, played for Cal Poly's women's volleyball team.
Once again, the coach was not very experienced in competitive volleyball and I became an unofficial assistant coach.
At that period in history, in our league, experienced volleyball officials that really knew the game were few and far between.
I took the opportunity to test for and earn a National Rating as a Women's Collegiate Volleyball official.
Later, I was told I was the first male in the country to do so.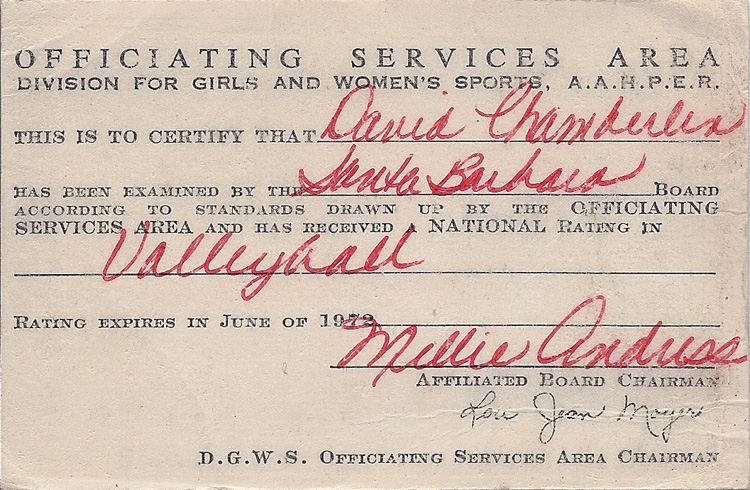 Nationally Rated Volleyball Official Card, Santa Barbara, California, 1971.



---

PLAYER-COACH - CAL POLY UNIVERSITY MEN'S VOLLEYBALL - 1965-1971

There was no sanctioned men's volleyball team at Cal Poly University when I arrived in 1965.
Fellow volleyball enthusiasts I met through the intermural program, tried to go through official channels to start a team.
It didn't happen, so we organized a "club" team that was able to compete against other sanctioned college teams.
Although we did ultimately get a volunteer coach and some old used sweat suits from Cal Poly.
This came after I wrote an article for the school paper describing our plight.
Mostly, we competed with only player-coaches of which I was one.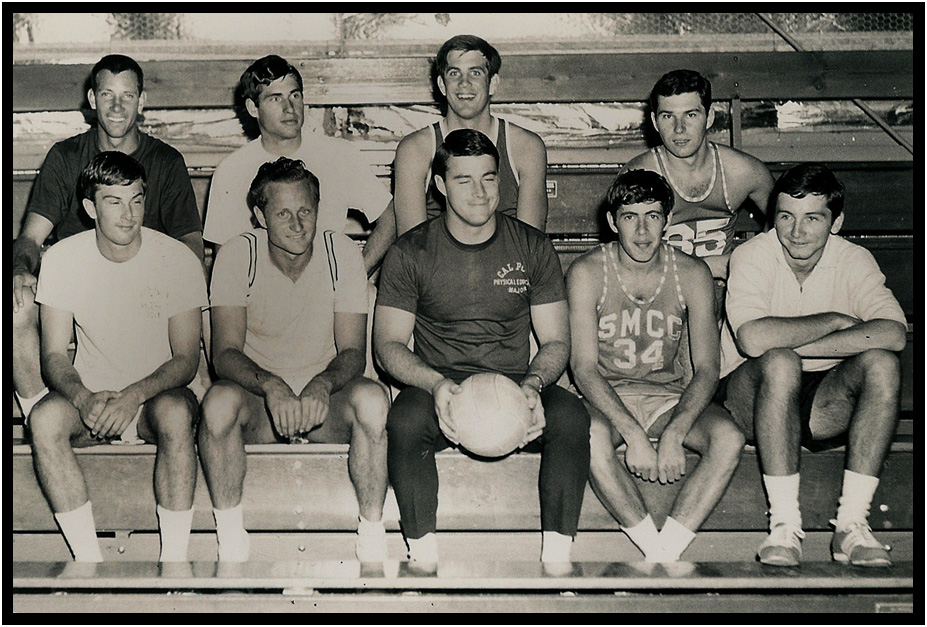 Cal Poly Men's Volleyball Club Team with our volunteer coach, San Luis Obispo, California.



---

WALDPORT HIGH SCHOOL GIRL'S JUNIOR VARSITY COACH - 1985-1987



---

WALDPORT HIGH SCHOOL WOMEN'S VARSITY COACH - 1989-1993

In 1993, Waldport High School was the smallest 3A school in the state to earn their way to the Oregon State Championship Tournament.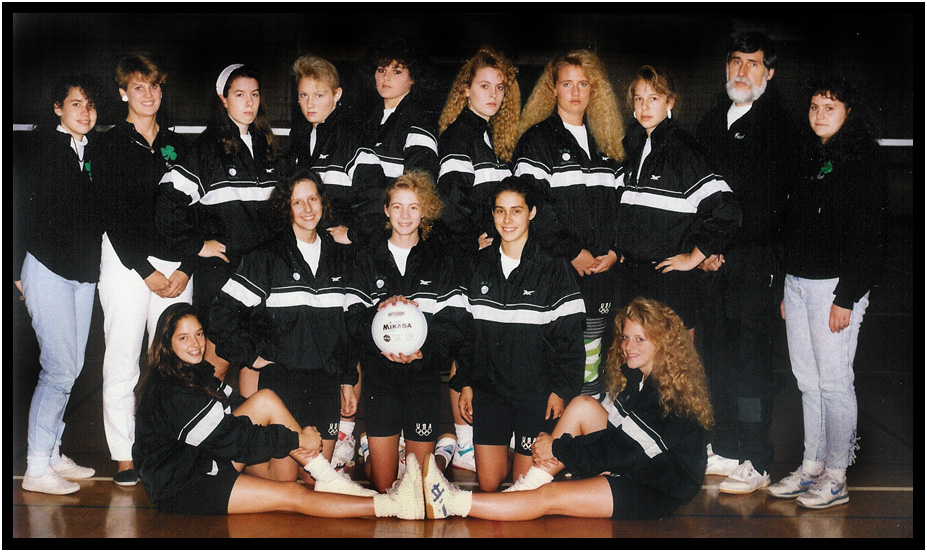 1991 Waldport High Women's Varsity Volleyball Team, Waldport, Oregon, 1991.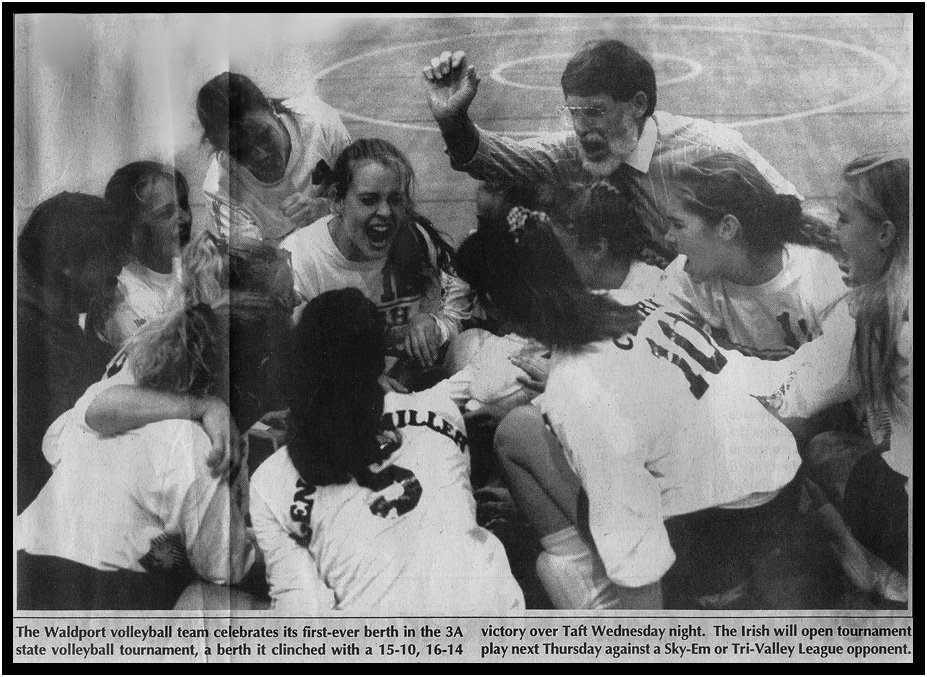 Newport News headline and photo when we earned our way to state, 1991.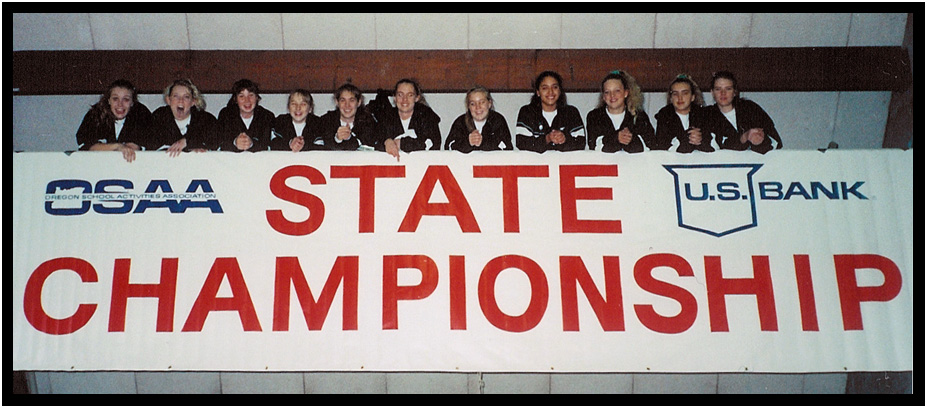 The team at the State Tournament, 1991.



---

IRISH ABOVE AND BEYOND COACH - 1991

In the summer of 1991, I organized Irish - Above and Beyond, a highschool girl's volleyball club team.
The girl's were able to get sponsors that raised money for the team to travel to California to play in the Manhatten Beach Open.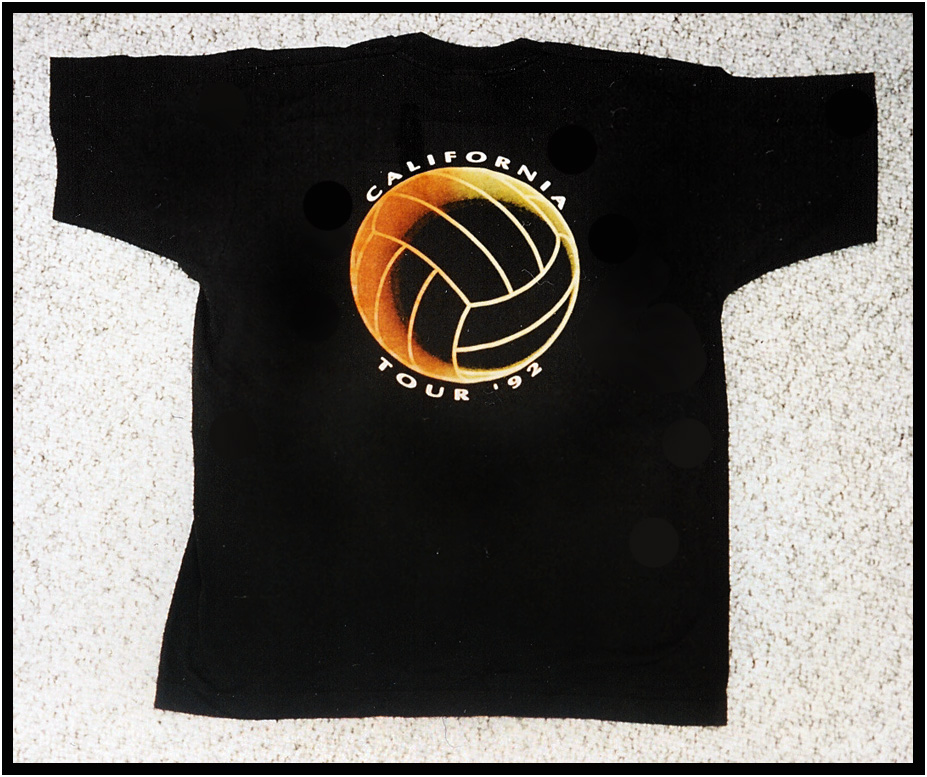 >



copyright d. holmes chamberlin jr architect llc
---
page last revised february 2020